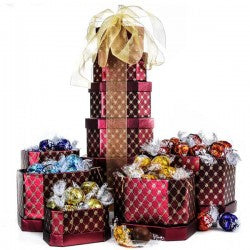 Local Delivery is Available for this Product
Hey there, gift-givers and chocolate enthusiasts! Looking to thrill someone's taste buds with a chocoholic's dream? Enter our Tower of Decadence—the perfect gift that's pure chocolate magic and delight wrapped in one! 
Imagine the joy of treating someone special to a tower stacked with gourmet chocolate goodies. It's the ultimate pick for ANY occasion. Whether it's a birthday, a celebration, or just to show some sweet appreciation, this tower is the tasty, heartfelt way to say, "You're special, and I care about your sweet cravings!"
6 x 4-1/4"

5-1/4 x 3-3/4"

4-3/4 x 3-3/4"

4-1/4 x 3"

3-3/4 x 2-1/2"

Total height approx: 13"
So, if you're ready to wow someone with the ultimate chocolate gift that says, "You're a superstar, and here's a tower of chocolate joy just for you!"—our Tower of Decadence is the way to turn any occasion into a chocolate-filled celebration! 🎉🍫✨