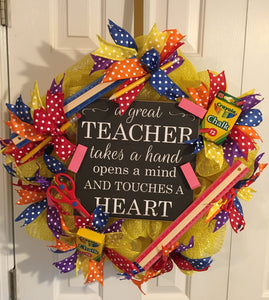 Local Delivery is Available for this Product
Back to School wreath would be a beautiful decoration for any classroom door/wall or teachers house. This wreath is decorated for a New or Returning Teacher. The plaque reads:
A Great
TEACHER
takes a hand
opens a mind
AND TOUCHES A
HEART
It is approx. 34" in diameter decorated with assorted ribbon and school supplies such as pencils, scissors, earasers, and rulers. This may be shipped nationwide. *We do have one in stock!* We do take orders and customize these wreaths.