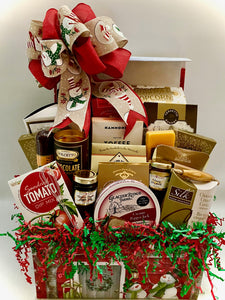 Local Delivery is Available for this Product
🎁❄️ Presenting our enchanting "Snowman's Keepsake Delight" gift basket, nestled in a charming reusable flip-top box—a delightful addition to your winter festivities and a perfect storage solution for treasured memories. Unbox the joy with an array of exquisite treats, including Dolcetto Cracker Crisps, indulgent Caramel Popcorn, and the perfect blend of Butter Toffee Pretzels.
Experience the sweet nostalgia of Old Fashioned Slice Drops and Chocolate Salted Caramel Cookies, complemented by savory delights such as a hearty Beef Stick and decadent Chocolate Rolled Wafers. Delve into the richness of Hammond Toffee Peanuts, savor the zing of a Cheddar Cheese Stick, and enjoy two comforting Hot Cocoas to warm your wintry moments. ❄️
❄️Snowman's Keepsake Delight invites you to relish the exceptional taste journey with Vineyard Estates Cheese Straws, luxurious Chocolate Covered Caramels, and a tantalizing Tomato Dip Mix. Spread the sweetness with Apple Jelly and Honey Mustard, and indulge in the Silk Chocolate Crunch Cookies.
This enchanting basket is not just a culinary adventure; it's a keepsake treasure, featuring Creamy Pepper Jack Cheese, chewy Caramels, and a touch of gourmet coffee. Adorned with a handmade bow and a thoughtful note, it comes wrapped in shrink wrap, ready to elevate your winter celebrations with warmth and flavor.❄️ 🎁