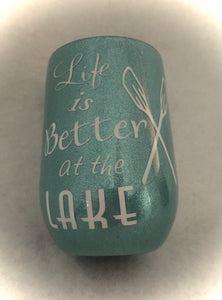 Local Delivery is Available for this Product
"Life is Better at the Lake"... is a stemless wine cup. This wine tumbler can keep your wine at its perfect temperature. It is decorated in extra fine glitter with vinyl lettering and FDA-approved epoxy. This wine tumbler can hold 11 ounces. These tumblers can be ready in one to two weeks. We can personalize and customize these tumblers. We carry several different stainless tumblers in a variety of sizes some have lids and some do not. We can add names, monograms, different colors, short messages, and images. All glitter, ink, and vinyl are sealed with layers of FDA-approved, food-safe Epoxy. With curing time needed these can not be rushed.
** WASHING INSTRUCTIONS** For the best and long-lasting quality of the tumbler, hand wash only with mild soap and water. Do not put it in the dishwasher, do not scrub or soak the tumbler. Air dry only. Do not freeze or microwave your tumbler. Do not use abrasives or chemicals to wash. Do not leave in extreme heat. 
Our goal is to send out top-quality merchandise. We hold ourselves up with high integrity when it comes to our merchandise. Each item is carefully made by hand, and quality is assured before packing. 

*** Cancellations can only be made if they are on the same business day as the initial order contact us if you have any problems with your order. These tumblers may be delivered locally or shipped nationwide. If you do not see a size you need give us ample time and we will do our best to fulfill your orders.

Have a question... Chat with us here on our website or call, text, email us and we will gladly assist you at 704.526.7407 or perfectselectioncreativegifts@gmail.com. 

These tumblers are great for corporate giving, business thank you, hostess gifts, and much, much more. We can add these tumblers to other gifts and gift baskets. Your gift will come wrapped with a bow and note. Please tell us what you would like on the note at checkout or simply call us for your order. Let us create your perfect gift!